Aiyanar Resort is located in the heart of Anilao's best dive sites and offers the perfect combination of diving and relaxing. Aiyanar features spacious ocean view rooms with equally large ensuite bathrooms, a modern restaurant and bar with views out to the ocean, an infinity swimming pool, dive centre with Nitrox, and for photographers a large camera room. At Aiyanar you can choose to do up to three day dives and a night dive with extended dive times as most dives are reasonably shallow. The guides in Anilao are all important and can find all the different critters for you – they are also used to working with photographers so will never rush you. If you prefer a private dive guide just let us know at the time of booking and we can easily arrange this for you.
Elegantly designed to blend perfectly with its natural landscape, are sixteen rooms spread over two floors, that provide an awe-inspiring ocean view. The warmly-lit rooms provide an inviting atmosphere for that well-deserved rest, complemented by soft pillows and high thread count sheets for a good night's sleep. All rooms are well-furnished with all the amenities typical of a modern resort. Each room is also adorned with its own balcony area offering ocean views over the manicured lawn below.
Casitas Room
– 2 Queen sized beds
– 33 sqm floor area
– Shared balcony overlooking the ocean
– Complete entertainment system
Deluxe Room
– 2 Double beds or 1 King sized bed
– 26 sqm floor area
– Private balcony overlooking the ocean
– Complete entertainment system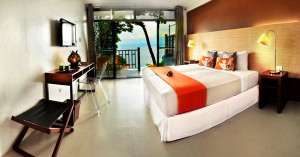 Bella Suite
– 2 Queen sized beds
– 35 sqm floor area
– Private balcony overlooking the ocean
– Complete entertainment system
With its open-air dining area, Aiyanar's clubhouse provides an excellent venue for dining, where one can feel the fresh sea breeze and watch the sun set while sampling the exquisite meals prepared by their in-house chefs.
Anilao is one of the premier critter destinations in the Philippines, yet it has only recently opened up to the international dive market. We first visited Anilao in February 2012 and after our first two dives it was apparent this was a truly unique dive location. Our divemaster had asked what we would like to see – this we had be asked in other critter destinations, but in Anilao our DM seemed confident he could show us everything on our list…before the day was out! He did not disappoint – dive 1 – lacy rhinopias and blue-ring octopus – tick, dive two – hairy frogfish and flamboyant cuttlefish (feeding) – tick, dive 3 – wunderpus and mimic octopus – tick…and that was just day 1! On day two we were promised a big school of trevally, so we put on our fisheye lenses and were treated to the biggest school of trevally we've ever seen in SE Asia – and Anilao is supposed to be all about critters! On one of our surface intervals we were also treated to an acrobatic display by a pod of Dolphins!
As the week continued we found ourselves studying books to think of new critters for the DM, and when our imagination failed us we would revisit our favourite sites to get even better images of our old friends! Anilao has been dubbed the 'nudibranch capital of the world' and whilst there is a bewildering array of nudis here, including beautiful Dragon nudis, Flabellina nudis, Janolus nudis and Phyllodesmium nudis, Anilao should really be dubbed the 'critter capital of the world'! So which were our favourite sites? Mainit Muck (Secret Bay) is probably the most famous site in Anilao and it doesn't disappoint – we dived it 3 times and saw different critters on each dive. Twin Rocks, Kirby's Rock, and Aphols were all amazing dives, and for a night dive we highly recommend the pier. We found beautiful bigfin reef squid here as well as lots of ornate ghost pipefish, bobtail squid, stargazer, coconut octopus, a baby Ambon scorpionfish and when the moon is right it's a hotspot for bobbit worms.