Atmosphere Resort in Dumaguete, 16-26 October 2017
Equator Diving invites you to join an exclusive trip to Atmosphere Resort in the Philippines! This stunning resort is located thirty minutes south of Dumaguete by car, in the coastal town of Dauin. Dauin is world famous for its amazing macro diving and nearby you also have Apo Island, famous for its wall dives with stunning corals, schooling fish, Sea Snakes and Turtles. For this trip we've negotiated a special group rate, along with complimentary house reef dives so you can maximise your time underwater!
Atmosphere Resort
Atmosphere Resort has a stunning infinity pool that overlooks the ocean and is surrounded by cushioned sun lounges, comfortable sofas and large parasols. The resort's contemporary style Deluxe Suite Rooms are large and spacious with double or twin beds and outdoor tropical bathroom with a rain shower, set within a pocket garden. A desk, flat screen TV with DVD-player and wireless internet will keep you connected and with a hammock and couch on the terrace overlooking the lush green gardens, relaxation is a must.
Dining
Atmosphere Resort places the utmost importance on the quality of the food and beverage experience and their name is fast becoming synonymous with a quality dining experience within Asia. Atmosphere's aim is to create a flexible approach to dining which can cater to all your culinary needs. Whether you wish for a romantic dinner on the beach, a seafood barbeque, eating in "Blue" their signature fine dining restaurant or simply relaxing at the bar, the choice is yours.
Dive Centre & Camera Room
Atmosphere Resort's spacious dive centre features private dive equipment storage spaces, wireless internet, nitrox, camera room, retail boutique, full equipment rental and a spacious briefing area. The camera room has a private work space for each diver and is equipped with power outlets for 110 and 220 volts, towels, air guns and air tight containers for your bits and pieces.
Sanctuary Spa
The Sanctuary Spa at Atmosphere Resort is set aside in a secret garden where four treatment pavilions nestle discreetly amongst running waterfalls, ponds and tropical plants. Each pavilion has two massage tables and its own unique bathrooms. Also present in the Spa is a heated pool for Watsu (water shiatsu) treatments. The central Shala is The Sanctuary's relaxation and reception area where you can recline and read a book to escape the mid-day sun. The spa is open 9am to 10pm and on offer is a wide range of massage therapies, spa treatments, yoga and wellness programs.
At Atmosphere Resort you can take full advantage of some of the world's best scuba diving. The world renowned Apo Island with its walls, stunning coral and schooling fish is a short boat ride away. Some of the world's rarest critters compete for the underwater photographer's attention along the Dauin coastline where Atmosphere is situated.
Atmosphere Resort offers up to 5 dives a day (the last one being a night dive) and they can be boat or shore dives, whatever you prefer. Usually the first dive goes out around 8/8:30, but you can also request an early morning dive on the house reef. Mandarin fish dives go out at 5:15pm so that you are in the area before the sunset at 5:30pm. Night dives go out a bit later, around 5:45pm, and the local regulations say that divers need to surface by 7pm to give the marine sanctuary enough quiet time. Since Apo Island is so close, around half an hour away, Apo Island trips can be done either with 2 morning dives, coming back to resort for lunch, or as a 3 dive trip having lunch on the boat.
Atmosphere Resort – Dive Site Descriptions (pdf)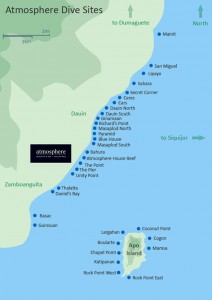 This trip is FULL. Please contact us for alternative trip dates or to join the waiting list.
Atmosphere Resort in Dumaguete, 16-26 October 2017
The cost of the trip is 2,675 GBP including 10 nights Deluxe Room at Atmosphere Resort with 20 guided dives (boat or shore), 1 FREE unguided house reef dive per day, 1 trip to Apo Island, FREE Nitrox, tanks/weights/weight belts, daytime marine sanctuary fees, full board meals, some drinks** and return transfers between Dumaguete airport and the resort.
**Included drinks: Fresh juices and locally brewed coffee and tea with breakfast. Coffee and tea in your room and on dive boats, and filtered drinking water everywhere in the resort. On Apo Island trips, soft drinks are included and also beers after you finish diving (unless you want to go for a night dive). Every Thursday there is a Cocktail Party by the bar with free cocktails!
Additional charge for dusk or night dives: 400 PHP (approx 7 GBP)