Dive into Ambon is located in Baguala Bay at Maluku Resort & Spa, Ambon's only boutique resort. This beautiful resort was fully refurbished and rebuilt in 2015 and Dive into Ambon is on-site. The resort is also home to The Spice Island Spa, Ambon's first and only dedicated luxury spa. There are three room types to choose from at the resort, all of which have free Wi-Fi, hot water, private bathrooms and air-conditioning. The resort's location in Baguala Bay provides easy access to both critter and coral sites.
Standard Deluxe Rooms
The Standard Deluxe Rooms offer simple yet comfortable accommodation. The rooms all have views to the sea, with private bathroom and air-conditioning.
Sea View Studio Suites
The Sea View Studio Suites are directly facing the sea. With a bedroom, a large living room and private bathroom.
Cottages
Set in the garden, with views of the Baguala Bay and the pool, these wonderful self-contained cottages are perfect for your stay. Split level, with their own balcony, living room, bedroom and 'Bali' styled bathroom.
Ambon Island, nestled in the Maluku Archipelago, is recognised as one of the premier critter diving locations in the world. The critter diving is focused in Ambon Bay, which is home to an incredible array of rare critters, including Ambon Scorpionfish, Rhinopias, Mimic and Wonderpus Octopus, Flamboyant Cuttlefish, many many Nudibranchs, Frogfish, Harlequin Shrimp, Coleman Shrimp and much much more. There is also always the chance to see perhaps the rarest underwater critter, the Psychedelic Frogfish, only ever found in Ambon. Lesser known is the south side of Ambon, which features great and colourful walls, caves, swim throughs, exceptionally healthy reef life, with large fish and more small critters.
Diving with Dive into Ambon
Dive into Ambon offers diving day trips with three dives per day. For diving Ambon Bay you take a short 10 minute bus ride to Dive into Ambon's private jetty at the base on Ambon Bay. From there you depart on one of Dive into Ambon's boats for a three dive trip to the amazing critter sites. When the season is right for the southern and eastern sites, you depart directly from the resort jetty by boat for a three dive trip. On a typical day you depart from the resort at 8.15am, returning around 4.30pm. When all the sites are open Dive into Ambon run one day of diving in Ambon Bay, followed by one day of the southern and eastern sites, and then repeat, so you can enjoy everything Ambon has to offer.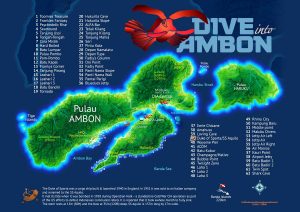 Dive into Ambon facilities
Dive into Ambon's on-site Dive Centre has been purpose built by divers for divers. Their dedicated Camera Room has universal sockets, all of which are attached to a voltage stabilizer (220V), ensuring even power when charging your batteries. There is a big Flat Screen TV at the Dive Centre that you can use to review your days' shooting. The Dive Centre also has a Bar and Jewellery Shop. All Dive into Ambon's boats have toilets, hot food, soft drinks, charging stations and fresh water. After every day's diving, the team will bring all your gear back from the boats and will rinse and then hang it to dry overnight in the Wet Room. After your last dive, they will thoroughly rinse everything inside and out. Nitrox is available at 32% from a membrane system and there are Nitrox analysers on the boats to check your Nitrox. Dive into Ambon also offers equipment rental.
Ambon Video

Filmed by Jo Horrocks on an Equator Diving holiday to Ambon.