Komodo on Indo Siren, 10-20 September 2019
Komodo is one of Indonesia's most exciting and diverse dive destinations, offering everything from squadrons of Mantas, to hunting pelagic fish and sharks, to incredible marco life and of course the world's largest lizard – the Komodo Dragon! Most people return to Komodo time and time again to experience the thrill of its dive sites and the end of the world landscapes. Komodo is exotic, remote, exciting and you can't help but smile knowing that you are somewhere very, very special! Our 2019 Komodo trip on Indo Siren Liveaboard is specifically timed to coincide with Komodo's best weather and diving conditions and will visit all the best dive sites in Komodo, Rinca, Gili Banta and Sangeang Island.
Komodo National Park (UNESCO World Heritage Site) is one of Indonesia's most famous dive destinations and with good reason. It has an amazing variety of dive sites offering something for everyone. From high voltage dives with Sharks and hunting pelagic fish to amazing dives with congregating Mantas and of course macro dives with a diverse range of critters. It also has the greatest surface interval of any dive destination with a visit to Rinca Island to see the Komodo Dragons!
Castle Rock and Crystal Rock are probably the two most famous dive sites in Komodo. Located in North Komodo they are two of Komodo's high voltage dives. The stars of the show are often the big Grey Reef Sharks and Whitetip Sharks hanging out at the drop off, accompanied by lots of Giant Trevally chasing bait balls and normally a few Napoleon Wrasse adding to the big fish show! The sheer perfusion of fish life at these dive sites is some of the best you will see in all of Indonesia. Batu Bolong is another of Komodo's big fish, high-action dive sites. Again Sharks feature high on the bill, as do many of the other schooling pelagic fish – Trevally, Tuna, Barracuda – expect to see them all in big numbers, along with huge schools of Rainbow Runners. It's not all big fish action though – Batu Bolong is also one of Komodo's best sites for Turtles. To the North of Batu Bolong are the dive sites of Tatawa Kecil and Tatawa Besar. Most people prefer Tatawa Kecil as it is a fishier dive. At Tatawa Kecil you can expect lots of fish but generally less pelagic action than at Batu Bolong. Batfish, groups of big Sweetlips and Snapper, as well as many smaller fish, make this dive site fish soup!
Moving down to the South coast of Komodo there are more excellent dives sites. Top on the list for most divers is Manta Alley – of course the highlight here is the Manta Rays! Mantas can also be seen at other sites in Komodo but Manta Alley is the most reliable. Another great dive in South Komodo is the small Phinisi wreck in Loh Sera Bay. We recommend diving this site twice, once during the day and again for a night dive. There's lots of fish life around the wreck, as well as Banded Sea Snakes and plenty of macro life clung to the wreck itself. Komodo National Park comprises not just Komodo Island but also the neighbouring island of Rinca. For divers South Rinca offers some great macro diving which really adds to the underwater diversity of Komodo National Park. The three most famous sites are Cannibal Rock, Banana Island and Yellow Wall. At these sites expect to find lots and lots of different types of Nudibranch, Shrimps and Crabs, Cuttlefish, Frogfish, and Pygmy Seahorse.
Of course no visit to Komodo is complete without a trip to see the Komodo Dragons. These trips normally take place during one of your surface intervals and are normally on Rinca Island. This is likely to be the best surface interval of your life! One thing that most people notice in Komodo is that the islands are much drier than in other areas of Indonesia and on your Rinca tour you could be forgiven for feeling more like you are on an African plain than a tropical island. Do not be deceived though, these islands are rich in fauna and other animals you may encounter during your tour are Snakes and Wild Deer.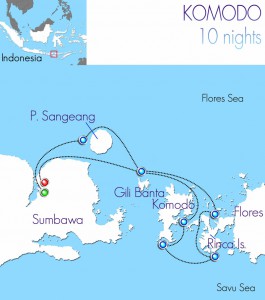 Komodo National Park 10 night itinerary
The first stop on Indo Siren's Komodo itinerary is the muck dive spot of the "Unusual Suspects", in Bima Bay. You will spend the night there before sailing on to Sangeang Island with its dark volcanic sand or Gili Banta. By the third day you will be diving inside the Komodo National Park in the areas of Gilli Lawa Laut and Batu Bolong where strong currents can be experienced, bringing with them Grey Reef and Whitetip Reef Sharks and schools of Snappers and Fusiliers. Indo Siren visits either Rinca or Komodo to make a walk with the Komodo Dragons before cruising southwards to Nusa Kode and Horseshoe Bay where there are numerous dive sites including Cannibal Rock, Torpedo Alley and Yellow Wall. Across the strait on the south of Komodo Island you spend the day diving the aptly named Manta Alley before returning northwards once again to dive sites that were not visited during the southward journey.
The 40 metre SY Indo Siren luxury liveaboard, launched in April 2011, has the same specifications as her sister yachts, the SY Philippine Siren, the SY Fiji Siren and the SY Palau Siren. The large cabins have an elegant teak finish and can accommodate both double and twin sleeping arrangements. The outdoor dining area is very comfortable and provides a fabulous setting for all your meals, whilst the dive deck offers both convenience and plenty of space when getting ready for your dives.
There are excellent facilities for underwater photographers and videographers, with large rinse tanks and designated areas for charging and preparation of your camera and video equipment, the SY Indo Siren truly sets out to be the pros choice for underwater photography and videography. Like the other Siren yachts, the SY Indo Siren was built on the Indonesian Island of Sulawesi and is a traditional gaft rigged Phinisi handcrafted from ironwood and teak. Built by divers for divers you can rest assured that your every need has been thought of. Nitrox and equipment rental is complimentary on the Indo Siren.
Spaces are available on this trip.
Komodo on Indo Siren, 10-20 September 2019
Early Bird price is 3,495 GBP or 3,840 EURO (normal price 4,290 EURO). This includes 10 nights on the Indo Siren with up to 34 dives (inc 5 night dives), free Nitrox, free equipment rental (except torch and dive computer), all meals, soft drinks, beer, tea/coffee and return transfers between Bima airport and the vessel. Flights are not included in the price, but can be readily arranged by Equator Diving upon request.
Marine Park/Port fee: 130 EURO