Malapascua & Visayas on Philippine Siren, 9-19 February 2022
This 10 night adventure trip will be run on Philippine Siren Liveaboard to dive two of the Philippines best dive destinations, Malapascua Island and the Southern Visayas, including Moalboal, Pescador Island, Oslob, Apo Island, Dauin, Balicasag Island and Cabilao Island. Combining these two destinations in one trip makes for an amazing Philippines liveaboard trip! Malapascua Island is the only place in the world where one can reliably dive with Thresher Sharks. Malapascua is not all about Thresher Sharks though, it has an amazing array of marine life both big and small – from Mantas to Mandarin fish! The Southern Visayas offer a wonderful mix of diving, including big fish highlights, such as Whale Sharks at Oslob and Sardine bait balls at Moalboal, relaxing diving on beautiful coral reefs and some of the world's best critter diving at Dauin!
Malapascua & Visayas 10 night itinerary
The trip starts and finishes in Cebu and will dive the best sites at both Malapascua Island and the Southern Visayas, including Moalboal, Pescador Island, Oslob, Apo Island, Dauin, Balicasag Island and Cabilao Island. Cebu is home to an International airport and is serviced by many International airlines, including Emirates, Singapore Airlines and Cathay Pacific, making travel for this trip particularly easy.
Malapascua & Visayas itinerary (pdf)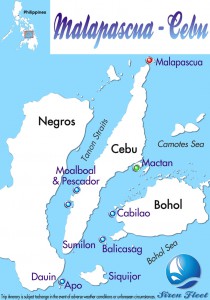 Malapascua Island
Malapascua is undoubtedly most famous for Thresher Sharks which are seen almost daily at Monad Shoal. This is probably the only place on earth where these elegant and shy animals can be seen in recreational dive depths. The Thresher Sharks come to Monad Shoal early each morning to be cleaned and then in the afternoon the same site becomes a Manta Ray cleaning station! Some of Malapascua's other highlights include Hammerheads at Kemod Shoal, Mandarin fish at Lighthouse Reef and Banded Sea snakes at Gato Island.
Southern Visayas
The Southern Visayas offer some of the Philippines most beautiful and diverse diving. At Cabilao Island steep reef walls are covered with sea fans, corals and sponges. Pygmy seahorses and frogfish are common sightings at Cabilao. Moving on to Balicasag you will dive a variety of sites around this tiny island to see Turtles and schools of Jacks as well as Barracuda and Snapper. The dark sand slopes of Dauin are the place to find a myriad of tiny odd shaped bottom dwellers from Robust Ghost Pipefish to Pipehorses, Waspfish and Skeleton Shrimps. Apo Island is a testament to the success of the marine sanctuaries in the Philippines and the pristine corals abound with numerous fish species. Friendly Turtles approach divers and at least 8 species of Anemone fish can be found here. Moalboal and tiny Pescador Island are famous for their resident school of Sardines and the occasional hungry Thresher Shark the Sardines attract. Whale Sharks are sometimes seen in the channel between Moalboal and Pescador Island. Whale Sharks can also be found at Oslob where the locals actively attract them.
The 40 metre SY Philippine Siren has the same specifications as her sister yachts, the SY Indo Siren and the SY Palau Siren. The large cabins have an elegant teak finish and can accommodate both double and twin sleeping arrangements. The outdoor dining area is very comfortable and provides a fabulous setting for all your meals, whilst the dive deck offers both convenience and plenty of space when getting ready for your dives.
There are excellent facilities for underwater photographers and videographers, with large rinse tanks and designated areas for charging and preparation of your camera and video equipment, the SY Philippine Siren truly sets out to be the pros choice for underwater photography and videography. Like the other Siren yachts, the SY Philippine Siren was built on the Indonesian Island of Sulawesi and is a traditional gaft rigged Phinisi handcrafted from ironwood and teak. Built by divers for divers you can rest assured that your every need has been thought of. Nitrox and equipment rental is complimentary on the Philippine Siren.
This trip is FULL. Please contact us for alternative trip dates or to join the waiting list.
Malapascua & Visayas on Philippine Siren, 9-19 February 2022
The cost of the trip is 4,200 USD including 10 nights on Philippine Siren with up to 4 dives per day (inc night dive), free Nitrox, free equipment rental (except torch and dive computer), all meals, soft drinks, beer, tea/coffee and return transfers between local airport and the vessel on the day of embarkation and disembarkation.
Marine Park/Port fee: 155 USD
Trip prices in GBP and EURO are also available upon request.