The Okeanos Aggressor is a 110 ft. yacht, built and powered for comfort, safety and stability. She is diesel powered, cruises at 10 knots and has 110-volt power onboard. Comfortable accommodations for 22 guests include 5 Deluxe cabins with lower double bed and single upper bed, 4 Deluxe cabins with two single beds (bunk-style) and 1 Quad cabin. Each cabin features a private head and shower, and storage space for your luggage.
Read More
The Okeanos Aggressor has a spacious salon, 40 ft. of sun deck, chaise lounges, deck chairs, bar, grill, and a complete photo center. The menu on board is varied and plentiful, with a variety of American feasts, barbecues and local cuisine. You will wake up to fresh fruits, hot entrees, cereals and juices. Lunches are buffet-style, featuring hot soups, homemade breads, salads and sandwiches and/or entrees. Dinners are chef prepared and served each evening and include salads, vegetables, seafood, beef or chicken with a fresh homemade dessert.
Cocos Island 10 night itinerary
Friday – Overnight hotel in San Jose, Costa Rica
Saturday – Transfer to the Okeanos Aggressor for boarding and departure for Cocos Island
Monday – Arrival at Cocos Island, diving begins
Tuesday to Sunday – Eat, Sleep & Dive
Monday – Travel at sea
Tuesday – Transfer to San Jose airport or hotel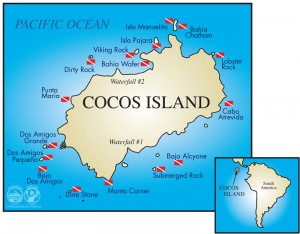 Cocos Island 10 night itinerary
Price 2019: Deluxe-cabin 5,499 USD (approx 4,133 GBP)
Price 2019: Quad-cabin 5,099 USD (approx 3,832 GBP)
Price 2020: Deluxe-cabin 5,599 USD (approx 4,208 GBP)
Price 2020: Quad-cabin 5,199 USD (approx 3,907 GBP)
Price 2021: Deluxe-cabin 5,699 USD (approx 4,283 GBP)
Price 2021: Quad-cabin 5,299 USD (approx 3,982 GBP)
Prices include: 10 night cruise on Okeanos Aggressor with 7 days of diving (up to 4 dives per day), tanks/weights/weight belts, all meals, snacks, beverages (soft drinks, local beer and wine), and return transfers between San Jose and the vessel on the day of embarkation and disembarkation.
Marine Park fee: 490 USD
Emergency Evacuation Plan fee: 30 USD
Nitrox: 150 USD