Banda Sea & Raja Ampat on Pindito, 9-20 November 2020
This 11 night adventure trip will be run on Pindito Liveaboard to dive two of Indonesia's best dive destinations, the Banda Sea and Raja Ampat. Our first stop on the trip will be Ambon Bay, home to some of Indonesia's best critter diving. Once in the Banda Sea we will dive the Banda Islands and Nusa Laut where we hope to encounter schooling Hammerheads! On route to Raja Ampat we will also dive Pulau Koon, renowned for its huge schools of fish. In Raja Ampat we will dive the famous dive sites of the Dampier Strait and the remote Southern sites around Misool. In Raja Ampat expect Wobbegongs, Walking Sharks, Pygmy Seahorses, schools of Sweetlips, Barracuda and Batfish, and if we're lucky hunting Mobula Rays!
Banda Sea & Raja Ampat 11 night itinerary
The trip starts in Ambon on 9 Nov 2020 and will visit all the best dive sites from Ambon to Raja Ampat, including Nusa Laut, the Banda Islands, Pulau Koon, Misool and the Dampier Strait, before finishing in Sorong on 20 Nov 2020.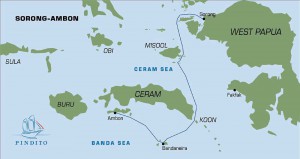 The Pindito liveaboard started diving trips in the Banda Sea in 1992 and quickly expanded its routes to include Raja Ampat and Komodo. In 2006 the Pindito underwent a full refit and today is one of the finest liveaboards in Indonesia, with a crew unmatched for its diving knowledge and experience. Pindito has 8 cabins, providing comfortable accommodations for up to 16 guests. All cabins feature individually controlled air conditioning, as well as ensuite heads appointed with a shower, washbasin, and toilet. Pindito's lounge is the place where everyone meets for meals, shares photos and videos between dives, and socialises. The lounge has a big screen TV for watching movies or reviewing your images, as well as plenty of fish ID books.
Photographers and videographers love the convenience and functionality of Pindito's camera room, located aft of the lounge on the main deck. The camera room has plenty of storage space, professional-grade work areas, and both 220V and 110V charging stations. Meals times on Pindito feature international cuisine, prepared by expert chefs. A continental breakfast is served before the first dive, and a sumptuous breakfast buffet is ready for you after the first dive. Lunch and dinner have an Asian flair, featuring meat, fish, and a variety of side dishes. Remember to save room for special sweets and delightful desserts! Pindito's dive deck offers enough space for all divers and includes fresh water showers for rinsing off after dives as well as water tanks for washing your dive gear and cameras. Pindito's sun deck, complete with sun roof and sunbeds, is a great place to hang out in between dives. Nitrox is complimentary on Pindito.
Spaces are available on this trip.
Banda Sea & Raja Ampat on Pindito, 9-20 November 2020
The cost of the trip is 4,195 GBP (4,600 EURO) including 11 nights on Pindito with up to 4 dives per day (inc night dive), free Nitrox, tanks/weights/weight belts, all meals, snacks, all beverages (excluding wine), and return transfers between local airport and the vessel on the day of embarkation and disembarkation. Flights are not included in the price, but can be readily arranged by Equator Diving upon request.
National Park fee: TBC