Raja Ampat on Indo Siren, 29 March-8 April 2019
Raja Ampat is probably the hottest diving location on the planet right now, amazing scientists and divers alike, with its sheer number of species, big and small. In Raja Ampat screens of glassfish hide Tasselled Wobbegongs and at night the 'Walking Sharks' come out to play. Pygmy Seahorse cling to spectacular sea fans and there are unforgettable Manta congregations and Mushroom Island landscapes. Many underwater photographers testify that no where on earth can compete with Raja Ampat and they return again and again to produce stunning cover shots! Our special trip in 2019 will visit the very best of Raja Ampat – taking in the highlights of both North and South regions all from the comfort of the SY Indo Siren liveaboard!
In the North of Raja Ampat the currents produce high adrenaline dives, whilst in the South the diving has a more relaxing feel. Some of the key areas in North Raja Ampat include the Gam Islands with the famous Passage dive site, Arborek Island with close by Manta Sandy dive site, and the Dampier Strait, home to Kri and Mansuar Islands. In the Dampier strait you can dive for day after day on the richest dive sites in the world – including Sardine reef, Cape Kri, Mioskon and newly discovered Roland's Woho.
Diving in the Dampier Strait expect large schools of Trevally, Barracuda, Fusiliers, Bumphead Parrotfish, Sweetlips, Batfish, Reef Sharks, Mantas, lots of Wobbegong, Pygmy Seahorse, Frogfish and on sunset and night dives, the Papuan Epaulette Shark, Ornate Ghost Pipefish and Toadfish! It was at Kri Island that the Ichthyologist Dr Gerald Allen famously identified 374 different species of fish on a single dive.
Closer to Sorong is Batanta Island where macro enthusiasts can fill their cameras with photos of Wunderpus, Mimic Octopus and other critter favourites! In the South of Raja Ampat the diving is focused around Misool and it's small neighbouring islands and again it is the diversity of Raja Ampat that makes this such a special area. Photographers always love the South as there are less currents and a perfusion of fish life both big and small. Dive sites such as Nudi Rock, Yilliet, Magic Mountain and Boo Windows are always amongst the favourites.
Day 1 – Embark in Sorong
Day 2 – Batanta Island (North Raja Ampat)
Day 3 – Pulau Wagmab and Pulau Farondi (South Raja Ampat)
Day 4 – Pulau Wayilbatan, Pulau Wayil and Pulau Kalig (South Raja Ampat)
Day 5 – Misool (South Raja Ampat)
Day 6 – Pulau Gam and Yangeffo (North Raja Ampat)
Day 7 – Mansuar Island and Arborek (North Raja Ampat)
Day 8 – Mansuar Island and the Dampier Strait (North Raja Ampat)
Day 9 – Mansuar Island and the Dampier Strait (North Raja Ampat)
Day 10 – Batanta Island (North Raja Ampat)
Day 11 – Disembark in Sorong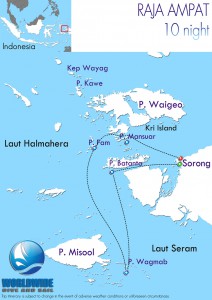 The 40 metre SY Indo Siren luxury liveaboard, launched in April 2011, has the same specifications as her sister yachts, the SY Philippine Siren and the SY Palau Siren. The large cabins have an elegant teak finish and can accommodate both double and twin sleeping arrangements. The outdoor dining area is very comfortable and provides a fabulous setting for all your meals, whilst the dive deck offers both convenience and plenty of space when getting ready for your dives.
There are excellent facilities for underwater photographers and videographers, with large rinse tanks and designated areas for charging and preparation of your camera and video equipment, the SY Indo Siren truly sets out to be the pros choice for underwater photography and videography. Like the other Siren yachts, the SY Indo Siren was built on the Indonesian Island of Sulawesi and is a traditional gaft rigged Phinisi handcrafted from ironwood and teak. Built by divers for divers you can rest assured that your every need has been thought of. Nitrox and equipment rental is complimentary on the Indo Siren.
This trip is FULL. Please contact us for alternative trip dates or to join the waiting list.
Raja Ampat on Indo Siren, 29 March-8 April 2019
The cost of the trip is 5,340 USD including 10 nights on the Indo Siren with up to 34 dives (inc 5 night dives), free Nitrox, free equipment rental (except torch and dive computer), all meals, soft drinks, beer, tea/coffee and return transfers between Sorong airport and the vessel. Flights are not included in the price, but can be readily arranged by Equator Diving upon request.
Marine Park/Port fee: 130 USD
Trip prices in GBP and EURO are also available upon request.