Raja4Divers Resort is situated on Pulau Pef which is quite simply one of the most beautiful islands in Raja Ampat. Dripping in lush virgin tropical jungle, the island is just waiting to be explored – spectacular bays, many smaller islets, blue lagoons, white sand beaches, hidden lakes, 'mushroom' outcrops, ancient rock art on karst cliffs, pristine blue-water mangroves, virgin jungle, and incredible variety of exotic birds, monitor lizards and cuscus. The island is surrounded by the world's richest reefs, many varied habitats and therefore diving is on a myriad of spectacular dive-sites. The resort nestles along a palm fringed, west facing beach, with spectacular sunsets right on front of the bungalows. With only eight bungalows and the unrivalled service levels it's one of the most exclusive diving resort in Raja Ampat and Indonesia.
Along a beautiful coconut palm fringed beach, Raja4Divers offers authentic Papuan style water bungalows on stilts. Extremely spacious, light and airy. The bungalow measures 128sqm: bedroom 48sqm, deck 24sqm, open air bathroom 44sqm.
Each bungalow is equipped with every creature comfort:
– ipad
– mini fridge
– mini safe
– water dispenser
– writing desk and note book
– mosquito net
– water kettle
– hot and cold water
– bath and swimming towels
– complimentary 3in1 shampoo and soap
– large en-suite indoor/outdoor bathroom
– international adaptor
– multiple plug for you to charge your electronics
– and on the large deck: sun loungers, hammock and steps into the water
The design relies on proven traditional Papuan building methods, and blends with modern ideas in order to maximise airflow and promote well-being, without compromising the natural surroundings. Each morning is a treat, with the sounds of exotic jungle birds in the forest off the beach and the large deck offers spectacular views particularly at sunset.
Restaurant
Raja4Divers open overwater restaurant serves three meals a day. Besides this, snacks, fruit, coffee, tea and drinking water are available the whole day.
For breakfast you will find a buffet with fresh bread, corn flakes, pancakes, fruits and more. But if you already like to eat some fried rice in the morning – just order a Nasi Goreng in the kitchen. Also at lunch time there's a buffet. Typical Indonesian meals are served and there's always something for everybody's taste. For dinner the three Indonesian courses, that also might have a western touch, will be served by Hariyo and his team at the long table. All the meals are prepared with fresh ingredients. Local people from different villages around Pulau Pef sell fresh fish and some vegetables by coming to our resort with their own boats. We get most of the fresh goods once a week from the market in Sorong where local people sell their fruit, vegetable and spices.
Sunset Lounge
As its name says, this lounge is made to watch a magic sunset on Pulau Pef. Enjoy it with a cold beer or drink from the restaurant. It's the place to meet and share the experiences of the day!
While the Dive Centre is located in the main building at the start of the jetty, the wet / dry storage areas are conveniently located at the pier at the end of the jetty, where dive briefings are held and the dive boats are docked. Rental gear is available in the Dive Centre as well as a library of marine reference guides. For maximum convenience, divers' personal diving gear is stored at the end of the jetty for the duration of the trip, and photographers are welcome to use the air conditioned camera room for storage and set-up of their imaging gear. The dive boats, Pef II, Pef III and Pef IV have quiet and fuel efficient twin Yamaha 50hp 4-stroke outboard motors, built-in shade protection, and have been custom fitted to maximum space and comfort, offering a maximum of eight divers per boat. Each dive boat is equipped with standard safety equipment – First Aid kit, First Aid Oxygen, tools, compass and 2-way radio, as well as dedicated padded camera crates, drinking water and towels on all trips. The use of Nitrox is encouraged, and offered free of charge for Nitrox certified divers.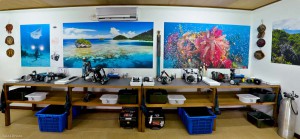 Pef House Reef
The house reef of Pulau Pef offers good diving and snorkelling opportunities, with a great variety of fish and critters. Night dives are convenient, colourful and productive, with the endemic Raja Ampat Walking Shark often sighted. At times a school of Batfish reside under the pier making for good photographic opportunities, and often baby Blacktip Sharks can be seen playfully hunting small fish in the shallows under the restaurant. A snorkel along the house reef reveals colourful coral gardens and whatever your are lucky to encounter – Clownfish in anemones, schools of Bumphead Parrotfish, every shape and size of reef fish, Octopus, Cuttlefish, resting Wobbegong Sharks, Nudibranchs, Mandarin fish – the possibilities are endless.
Pulau Pef is a mini Raja Ampat all in one – meaning that it offers not only world class diving and snorkelling on the house reef and a large variety of dive sites in the general area surrounding the island, but also a host of other exciting activities close to nature – hiking, climbing, kayaking, swimming, sunbathing, walking, imaging, birding or just plain relaxing!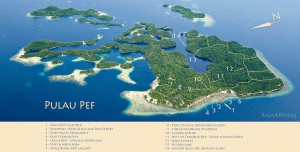 Diving Raja Ampat
Raja Ampat is probably the hottest diving location on the planet right now, amazing scientists and divers alike, with its sheer number of species, big and small. In Raja Ampat screens of glassfish hide Tasselled Wobbegongs and at night the 'Walking Sharks' come out to play. Pygmy Seahorse cling to spectacular sea fans and there are unforgettable Manta congregations and Mushroom Island landscapes. Many underwater photographers testify that no where on earth can compete with Raja Ampat and they return again and again to produce stunning cover shots!
Most resorts are located in North Raja Ampat, this includes Papua Paradise, Raja4Divers, Kri Eco and Sorido Bay Resort, whilst only Misool Eco Resort is located in South Raja Ampat. In the North of Raja Ampat the currents produce high adrenaline dives, whilst in the South the diving has a more relaxing feel. Some of the key areas in North Raja Ampat include the Gam Islands with the famous Passage dive site, Arborek Island with close by Manta Sandy dive site, and the Dampier Strait, home to Kri and Mansuar Islands. In the Dampier strait you can dive for day after day on the richest dive sites in the world – including Sardine reef, Cape Kri, Mioskon and newly discovered Roland's Woho. Diving in the Dampier Strait expect large schools of Trevally, Barracuda, Fusiliers, Bumphead Parrotfish, Sweetlips, Batfish, Reef Sharks, Mantas, lots of Wobbegong, Pygmy Seahorse, Frogfish and on sunset and night dives, the Papuan Epaulette Shark, Ornate Ghost Pipefish and Toadfish! It was at Kri Island that the Ichthyologist Dr Gerald Allen famously identified 374 different species of fish on a single dive. Closer to Sorong is Batanta Island where macro enthusiasts can fill their cameras with photos of Wunderpus, Mimic Octopus and other critter favourites! In the South of Raja Ampat the diving is focused around Misool and it's small neighbouring islands and again it is the diversity of Raja Ampat that makes this such a special area. Photographers always love the South as there are less currents and a perfusion of fish life both big and small. Dive sites such as Nudi Rock, Yilliet, Magic Mountain and Boo Windows are always amongst the favourites.
Raja4Divers Resort Prices
Price 2018-2019 7 nights: 2,860 EURO (approx 2,508 GBP)
Price 2018-2019 14 nights: 5,280 EURO (approx 4,631 GBP)
Price 2018-2019 21 nights: 7,480 EURO (approx 6,560 GBP)
Prices are based on stays in Jan-June and Oct-Dec. Discounts are available for stays in July-Sept.
Prices include: Accommodation at Raja4Divers, all meals, extra snacks and fruits, tea, coffee, drinking water & soft drinks, Unlimited diving (3 guided boat dives daily plus an optional night dive, housereef dives), no fuel surcharges on diving trips, free Nitrox, tanks/weights/weight belts, Kayak rental, Laundry service, Wi-Fi & tablets to use in the guest bungalows, Papua travel permit and registration, 10% Government taxes, 1 night Sorong hotel (inc breakfast and airport transfer), Airport departure tax at Sorong airport and Porter fees at Sorong airport.
Marine Park fee: 1,000,000 IDR
Scheduled boat transfer to and from Raja4Divers Resort: 250 EURO p/p return
Scheduled boat transfers are SATURDAY Sorong – Raja4Divers / FRIDAY Raja4Divers – Sorong