Silver Bank Humpbacks on Aggressor, 15-22 February 2020
The Silver Bank area is one of the few places in the world where humans can observe Humpbacks both from the surface and in the water. The warm, clear water of Silver Bank is an ideal location for viewing and photographing the Whales. Silver Bank trips offer two distinct types of encounters. From the surface there is the spectacle of rowdy males aggressively competing for the attention of the females by breaching, slamming into one another, lob tailing, spy hopping and fin and tail slapping. The other type of encounter involves entering the water wearing mask, fins and snorkel to observe less aggressive and often curious groups and individuals. Whales considered to be approachable in the water include mother, calf and escort male trios, solitary females and sleeping Whales. Our trip will take place on the Turks & Caicos Aggressor II – one of the few yachts permitted access to the Silver Bank during the Humpback mating and breeding season!
Silver Bank is twenty square miles in size, and is located in between the Dominican Republic and the Turks & Caicos Islands. Designated as a Marine Sanctuary, the Silver Bank provides a safe wintering haven for the entire North Atlantic Humpback Whale population who gather here by the thousands to court, mate, calve, and rear their young. Humpback whales find the area ideal for mating and giving birth. The banks offer safety and protection to females and their calves until the young are strong enough to make the trip back to the North Eastern U.S. coast. This sanctuary is also known as the 'Sanctuary for the Marine Mammals of the Dominican Republic'.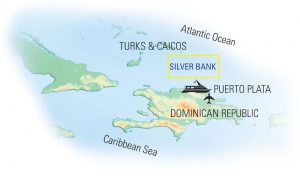 Silver Bank 7 night Humpback itinerary
Saturday – Board Turks & Caicos Aggressor II at 4pm at Ocean World Marina in Puerto Plata (Dominican Republic) and depart to Silver Bank.
Sunday – Morning arrival at Silver Bank. Brunch/late breakfast while crew prepares mooring and assembly of the tenders. The first Whale runs begin around 2pm.
Monday-Wednesday – First Whale runs will commence immediately after breakfast. Whale runs are throughout the day. Sundowner cocktail parties on the sun deck every afternoon following Whale runs. Nightly presentation and video will be after dinner.
Thursday – Two Whale runs will be offered prior to departure from Silver Bank.
Friday – The yacht returns to the Ocean World Marina in Puerto Plata late Friday afternoon. Sunset cocktail party followed by dinner at a local restaurant.
Saturday – Disembark Turks & Caicos Aggressor II between 7am and 8am.
From January to March each year the Turks & Caicos Aggressor II Liveaboard moves to Silver Bank in the Dominican Republic to offer 7 night snorkeling trips with Humpback Whales.
The Turks & Caicos Aggressor II is a beautiful 120 ft. yacht, designed and powered for comfort, safety and stability. She accommodates up to 18 guests in 1 Master cabin, 6 Deluxe cabins and 2 Twin cabins. All cabins have ensuite bathrooms (except the Twin cabins), TV and media player. The 2 Twin cabins share 1 bathroom. The Turks & Caicos Aggressor II features a roomy, air conditioned salon and dining area, sun deck complete with a hot tub, lounge and deck chairs, Bluetooth stereo, shaded wet bar and grill, and a complete photo center with a digital video and still photo editing computer. The back deck includes individual equipment lockers, camera table and two hot, fresh water showers.
The menu onboard is varied and plentiful, with a variety of American feasts, barbecues and local cuisine. You will awaken to fresh fruits, hot entrees, cereals and juices. Lunches are buffet-style, featuring hot soups, homemade breads, salads and sandwiches and/or entrees. Dinners are served each evening and include salads, vegetables, seafood, beef or chicken with a fresh homemade dessert.
The Turks & Caicos Aggressor II has two 17 ft. long by 7 ft. wide, aluminium V-hull tenders with 18″ pontoons. They are fitted with a dive ladder for easy entry, a full-length bimini top for sun protection, 2 x 50 hp 4-stroke Yamaha engines for extra safety and a VHF radio. The tenders are launched several times daily and are solely used to bring you closer to the Whales. Each Whale runs last one and a half to three hours depending on the proximity of Whale activity and time of day.
This trip is FULL. Please contact us for alternative trip dates or to join the waiting list.
Silver Bank Humpbacks on Aggressor, 15-22 February 2020
The cost of the trip is 4,195 USD including 7 nights Deluxe cabin on Turks & Caicos Aggressor II, Whale runs and snorkeling, all meals (except dinner on the final night), snacks and drinks onboard (alcoholic & non-alcoholic). Flights are not included in the price, but can be readily arranged by Equator Diving upon request.
Whale Sanctuary Access Fee: 350 USD
Trip prices in GBP and EURO are also available upon request.
Silver Bank Aggressor Video