Papua Diving's Sorido Bay Resort is based on Kri Island, a small island next to larger Mansuar Island, in the heart of Raja Ampat. Papua Diving have played a major part in pioneering the reefs of Raja Ampat, and after years of surveying the reefs they purposely built their first resort, Kri Eco, and then their second resort, Sorido Bay, in one of the richest areas of Raja Ampat – the Dampier Strait. Sorido Bay Resort is for the discerning traveller. The ocean front cottages at Sorido were built in 2004 combining both modern and traditional Papuan building styles and materials. They are nestled in the lush green jungle on a beautiful Cape overlooking a spectacular lagoon, meters away from the resort's famous Cape Kri house reef.
Sorido Bay Resort has two kinds of ocean front cottages both of which are very spacious and luxurious – "Sentani Cottages" and "Kaimana Cottages". Sorido's cottages are air conditioned, with spacious hot water ensuite bathrooms, camera workstations and private sun decks.
Sentani Cottage
The Sentani cottage (60m2) offers you all the comfort you need with splendid ocean views. A spacious double room – ideal for 1-2 guests.
Sentani Cottages feature:
-Air conditioning
-Wifi (250 MB free per week)
-Kingsize bed
-Electric fan
-24/7 power supply with 220V & 110V outlets
-Shampoo, Conditioner, Lotion and Showergel
-Minibar
-Safety Box
-Camera workstation
-Camera taxi
-Laundry service
-Private sun deck
-Kayak
Kaimana Cottage
The Kaimana cottage (90m2) offers additional space for even more comfort. Just like the Sentani cottage the room offers splendid ocean views. The cottage has a separate living room that can also be transformed into an additional bedroom for adults with children. A very popular option for families or two couples vacationing together. A family sized room – ideal for 1-4 guests.
Kaimana Cottages feature:
-Air conditioning
-Wifi (250 MB free per week)
-Kingsize bed
-Extra bed on request
-Sitting area
-Electric fan
-24/7 power supply with 220V & 110V outlets
-Shampoo, Conditioner, Lotion and Showergel
-Minibar
-Safety Box
-Camera workstation
-Camera taxi
-Laundry service
-Private sun deck
-Kayak
At Sorido Bay Resort a spacious dining area with bar and lounge invites you for epic views over the Dampier Strait and the resort's famous Cape Kri house reef.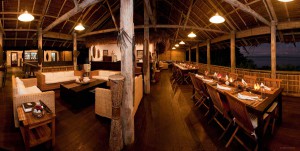 Papua Diving offers 3 guided boats dives per day plus an optional night/dusk dive. This is usually planned as 2 dives in the morning, 1 in the afternoon and if requested an additional night dive. The service operates 6 days a week Saturday evening to Friday evening every week. For your comfort, after a short journey of between 1 to 15 minutes, you are back at the resort for your surface interval to refresh and relax in comfort. Nitrox is free of charge for certified Nitrox divers and towels and fresh water are always provided on the boats. Unguided diving direct from Kri Eco or Sorido Bay resort's jetty is also possible 7 days a week.
Cape Kri house reef
One of Raja Ampat's best dives, Cape Kri, is Sordio Bay's house reef and less than 3 minute by boat from Kri Eco Resort. This is the dive site that put Raja Ampat on the map when Dr Gerry Allen smashed his record for total number of fish species on a single tank dive: 374 different species! At the Northeast point of Kri island the currents sweep into a channel between Kri and the small island of Koh. At this point beneath waters churning in the current, huge schools of big-eye trevallies, barracudas and snappers can be seen hanging over the drop off. At the base of the reef at 38 meters an ancient snagged anchor rests next to a bommie with a dense school of banded sweetlips. A large shallow coral garden crowns the reef top with blacktip reef sharks patrolling amongst the overlapping maze of hard corals with feeding hawksbill turtles. Car-sized Queensland groupers down to the diminutive ever-present pygmy seahorse can be seen on this phenomenal and always-surprising dive site! Dawn and dusk are feeding time so divers can experience this site at its awe-inspiring best.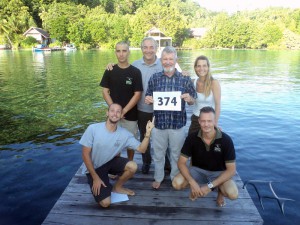 Diving Raja Ampat
Raja Ampat is probably the hottest diving location on the planet right now, amazing scientists and divers alike, with its sheer number of species, big and small. In Raja Ampat screens of glassfish hide Tasselled Wobbegongs and at night the 'Walking Sharks' come out to play. Pygmy Seahorse cling to spectacular sea fans and there are unforgettable Manta congregations and Mushroom Island landscapes. Many underwater photographers testify that no where on earth can compete with Raja Ampat and they return again and again to produce stunning cover shots!
Most resorts are located in North Raja Ampat, this includes Papua Paradise, Raja4Divers, Kri Eco and Sorido Bay Resort, whilst only Misool Eco Resort is located in South Raja Ampat. In the North of Raja Ampat the currents produce high adrenaline dives, whilst in the South the diving has a more relaxing feel. Some of the key areas in North Raja Ampat include the Gam Islands with the famous Passage dive site, Arborek Island with close by Manta Sandy dive site, and the Dampier Strait, home to Kri and Mansuar Islands. In the Dampier strait you can dive for day after day on the richest dive sites in the world – including Sardine reef, Cape Kri, Mioskon and newly discovered Roland's Woho. Diving in the Dampier Strait expect large schools of Trevally, Barracuda, Fusiliers, Bumphead Parrotfish, Sweetlips, Batfish, Reef Sharks, Mantas, lots of Wobbegong, Pygmy Seahorse, Frogfish and on sunset and night dives, the Papuan Epaulette Shark, Ornate Ghost Pipefish and Toadfish! It was at Kri Island that the Ichthyologist Dr Gerald Allen famously identified 374 different species of fish on a single dive. Closer to Sorong is Batanta Island where macro enthusiasts can fill their cameras with photos of Wunderpus, Mimic Octopus and other critter favourites! In the South of Raja Ampat the diving is focused around Misool and it's small neighbouring islands and again it is the diversity of Raja Ampat that makes this such a special area. Photographers always love the South as there are less currents and a perfusion of fish life both big and small. Dive sites such as Nudi Rock, Yilliet, Magic Mountain and Boo Windows are always amongst the favourites.