The Socorro Aggressor is a spacious 135 ft. yacht with a wide beam, built and powered for comfort, safety and stability. She accommodates 26 guests in 5 Master cabins and 8 Deluxe cabins. Socorro Aggressor has an air-conditioned spacious lounge, well equipped with an LCD TV, large sun deck with shading, chaise lounges and deck chairs, bar, and a complete photo/video center. The menu onboard is varied and plentiful, with a variety of local Mexican cuisine. You will awaken to fresh fruits, hot entrees, cereals and juices. Lunches are buffet-style, featuring hot soups, homemade breads, salads and sandwiches and/or entrees. Dinners are served each evening and include salads, vegetables, seafood, beef or chicken with a fresh homemade dessert.
Socorro Aggressor offers the following itineraries:
Socorro Islands 8 night itinerary
Day 1 – 7:45am – Pick up from host hotel in San Jose del Cabo, the boat departs shortly after 8am.
Day 2 – Arrive to Socorro around 10am, 3 dives.
Day 3 – Up to 4 dives.
Day 4 – Up to 4 dives.
Day 5 – Up to 4 dives.
Day 6 – Up to 4 dives.
Day 7 – Up to 4 dives, the yacht departs that evening and travels back.
Day 8 – Arrival at San Jose del Cabo at approximately 8pm.
Day 9 – 8am – after breakfast the shuttle will transfer all guests to San Jose del Cabo Airport.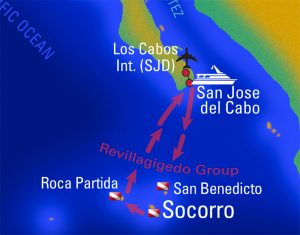 Guadalupe Island 4 night itinerary
Day 1 – Pick up from host hotels in San Diego and Tijuana, transfer to Socorro Aggressor in Ensenada and depart for Guadalupe Island around 12pm.
Day 2 – 8am-5pm Guadalupe cage diving.
Day 3 – 8am-5pm Guadalupe cage diving.
Day 4 – 8am-1:30pm Guadalupe cage diving, depart back to Ensenada.
Day 5 – 8am – Check out, departure to Tijuana and San Diego host hotels and San Diego Airport.
Prices include: Cabin accommodation on Socorro Aggressor, all diving, tanks/weights/weight belts, all meals, snacks, beverages (alcoholic & non-alcoholic), 16% Mexican Tax and transfers.