Solomon Islands on Bilikiki, 23 Nov-7 Dec 2021
The Solomon Islands rewards adventurous divers with some of the world's richest reefs. During our 14 night trip on legendary Bilikiki Liveaboard we will venture from Honiara to the Florida Islands, Russell Islands, Marovo Lagoon and isolated Mary Island in search of Sharks, Mantas, Dolphins, Turtles, schooling fish in countless numbers and plenty of weird and wonderful critters. We'll also dive wrecks and fascinating underwater terrains where islands split in two and rays of light illuminate caverns. Bilikiki offers unlimited diving, with up to 5 dives offered each day, so you can dive until your heart is content. And of course a trip to this remote part of the world would not be complete without a visit to a local village!
Solomon Islands 14 night itinerary
Our Bilikiki 14 night trip will start and finish in Honiara, the capital city of the Solomon Islands. The three main island groups that our Bilikiki 14 night trip will dive are the Florida Islands, Russell Islands, and Marovo Lagoon in the New Georgia Group. Each of these island groups consists of dozens of islands and a vast array of dive sites. Our Bilikiki 14 night trip will also dive an isolated island known as Mary Island.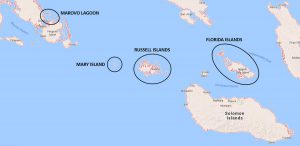 Diving the Solomon Islands
The Solomon Island waters are very nutrient rich, and they support the entire food chain from microscopic creatures to major predators. You'll have a good opportunity to see a variety of sharks, mantas, dolphins, and turtles, and barracuda in uncountable numbers. In shallower waters you'll see almost every tropical fish imaginable, and some that will stretch your imagination. There are cuttlefish, octopus, schooling lionfish, and amazing numbers and varieties of anemone fish, anemones and corals.
Underwater terrain varies from walls to reefs, to passages to "bommies". You'll visit caverns with shafts of sunlight illuminating the interior. You'll swim 200 feet into a split in an island, and when you surface you'll be under a jungle canopy listening to the parrots and cockatoos. You'll enter a tunnel on a pinnacle and exit minutes later in the deep blue ocean.
The Solomon Islands were the site of major World War II naval battles and Bilikiki offer wreck dives on every cruise. Wrecks dived include The Ann in the Russell Islands (a more recent wreck, not WWII) and WWII Japanese transports in Marovo Lagoon. Divers still find ample evidence of the war action that sunk these vessels, lots of ammunition and machinery in the holds, as well as dishes, bottles and other evidence of onboard activities.
Bilikiki arrange a village visit at least once on every trip. You'll have a chance to meet the Islanders, see and purchase carvings and baskets and visit their schools and churches. If you're anchored off a village the Islanders will come out in their dugout canoes to market produce and carvings, or just watch what's going on. The children are a real delight and they are naturals in the water swimming!
In 1989 MV Bilikiki sailed as the first full service luxury liveaboard dive vessel in the Solomon Islands. MV Bilikiki has 10 deluxe cabins, eight with a double bed below and single above and two with twin beds and no bunk. All cabins are air-conditioned and have private shower, toilet and hand basin. Her large size and a hull that was built for South Pacific seas are two main reasons why guests from around the world still say that "the Bilikiki" is one of the most spacious and comfortable vessels that they have travelled on.
The immense dive deck on Bilikiki gives you lots of room for suiting up, and if you're a photographer you'll appreciate the large carpeted camera tables, right on the dive deck, where you need them for last minute adjustments. The crew will load everything you need in the skiff for you, and help you into your gear when the skiff reaches the dive site. Then you just roll over the side and enjoy the riches of the sea! There are two skiffs and one is always on site so there is no need to wait for other divers before heading back to the mothership. Bilikiki offers unlimited diving, with up to 5 dives offered each day.
There are spaces available on this trip.
Solomon Islands on Bilikiki, 23 Nov-7 Dec 2021
The cost of the trip is 8,330 USD including 14 nights on Bilikiki with up to 5 dives per day (inc night dive), tanks/weights/weight belts, all meals, snacks, and return transfers between Honiara airport and the vessel on the day of embarkation and disembarkation.
Reef Tax: 350 USD (25 USD/night)
Nitrox: Price on request
Trip prices in GBP and EURO are also available upon request.
Bilikiki – Solomon Islands Video