The MV Carpe Novo is the NEW sistership to the MV Carpe Diem and MV Carpe Vita liveaboards, launched in March 2016. The Carpe Novo is a 43m luxury liveaboard, with 12 cabins decorated in a modern motif, all with ensuite bathrooms and individually controlled air conditioning. The Carpe Novo can accommodate up to 22 guests in 4 Junior suites, 2 Single suites and 6 Standard cabins.
Read More
The topmost deck of Carpe Novo is the sun deck which offers both shaded and full-sun areas for relaxation. The upper deck includes the al-fresco dining area, the bar, the Junior suites, a small lounge area and the bridge. The large main deck contains the air-conditioned lounge and leisure area, TV viewing area with DVD/CD music system, forward outdoor seating area, common restroom, the Single suites, galley, a dedicated camera room with charging station and tables. There are two sets of stairs accessing the swim platform where one in-water ladder hangs for easy access to and from the water for a refreshing swim when the vessel is at anchor. The Standard cabins are located on the lower deck, accessed via stairs from the main deck. HD media players along with a small selection of movies and music are available for guest use in each cabin and there is also a wireless internet connection throughout the vessel (charges apply). The Carpe Novo is ideally sized and equipped for divers. Three dives are conducted daily from a spacious dhoni, fully equipped with a bathroom, hot-water showers and air and nitrox compressors.
Junior suites
The 4 Junior suites, located on the upper deck have king size (California) beds, a wide flat screen TV connected to central media system, desk/chair/dresser, two hanging closets, windows throughout the side of the cabin, bathroom with large sink and a spacious shower. In two of the Junior suites it is possible to separate the king size bed into two separate beds.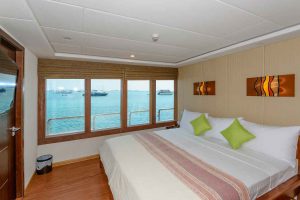 Single suites
The 2 Single suites, located on the main deck have queen size beds and desk/chair, TV connected to central media system, hanging closet, large windows, private ensuite bathroom and shower.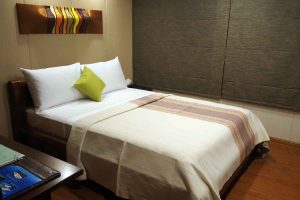 Standard cabins
A total of 6 Standard cabins are located on the cabin deck below the main deck. Four cabins have one queen size bed and a single bed and the two front cabins have two single beds. All cabins have a smart TV connected to central media system, desk, private ensuite bathrooms with showers. All standard cabins have portholes.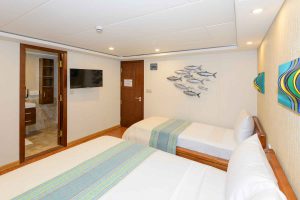 Maldives 7 and 10 night itineraries
The MV Carpe Novo offers 10 night and 7 night Central/Southern Atolls itineraries, as well as specialty itineraries throughout the year, like Deep South Shark, Far North Exploration, Whale Shark by Night and Manta Ray Identification. Each trip offers a unique dive itinerary based on the seasons, current and pelagic migration patterns.
Maldives 7 and 10 night itineraries
Price 2018-2019 (7 nights): Standard-cabin from 1,863 USD (approx 1,321 GBP)
Price 2018-2019 (10 nights): Standard-cabin from 2,699 USD (approx 1,914 GBP)
Upgrades available to Single and Junior suites.
Prices include: Cabin accommodation on Carpe Novo with up to 3 dives per day (plus 1 or 2 night dives), tanks/weights/weight belts, all meals, snacks, 12% GST, and return transfers between local airport and the vessel on the day of embarkation and disembarkation.
Green Tax: 6 USD/night