MV Oceania is the newest addition to liveaboard diving in the waters of Papua New Guinea. A 27 metre catamaran accommodating up to 16 guests, MV Oceania began operation in April 2019 out of Walindi Resort. Having just undergone an extensive refit Oceania is fresh, modern, and comfortable, designed with the modern diver in mind. Oceania has both Twin and Queen bed cabins, all ensuite and above deck with an ocean view. Cabins and common areas inside are all individually air-conditioned and outside there is a spacious sun deck to relax during surface intervals.
Oceania offers the following itineraries:
-Bismarck Sea Signature Itinerary
-Fathers Reefs & Kimbe Bay Itinerary
-Witu Islands Itinerary
-West New Britain Itinerary
-East and West New Britain Itinerary
-New Hanover and Witu Islands Itinerary
-Milne Bay to Rabaul Itinerary
-Milne Bay Itinerary
-New Ireland Itinerary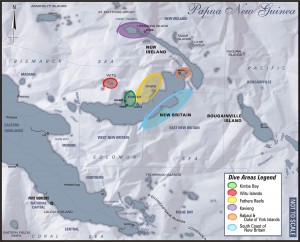 Example 10 night Bismarck Sea Signature Itinerary
Day 1 – Board Oceania late afternoon
Day 2 – Kimbe Bay
Day 3 – Witu Islands
Day 4 – Witu Islands
Day 5 – Witu Islands
Day 6 – Father's Reef
Day 7 – Father's Reef
Day 8 – Father's Reef
Day 9 – Father's Reef
Day 10 – Kimbe Bay, dinner at Walindi Resort
Day 11 – Disembark Oceania
Diving Kimbe Bay
The coral reefs in Kimbe Bay are extraordinarily rich – a recent coral count revealed an incredible 413 species of hard coral. This is over half the total world species in one Bay, a truly remarkable statistic which makes Kimbe Bay the "Coral Capital of the World". Over 900 species of fish have been recorded and this number will continue to grow as more research is done.
Diving the Witu Islands & Father's Reef
At the Witu Islands, there are fantastic macro dives and schools of pelagic fish abound on the world renowned Lama Shoals, a sea mount rising to within 15 feet of the surface from the surrounding deep waters. Father's Reef, to the north east of Kimbe Bay along the northern coast line of New Britain, is a series of offshore reefs, which are the sunken remains of a huge extinct volcanic caldera. The reefs have interesting topography with swim throughs and arches adorned with soft corals and other sea life. Being offshore, these reefs attract many pelagic species including Sharks, Tuna, Barracuda, Turtles and Rays, which all come in to feed off the prolific reef fish and other invertebrate species that have settled here. Dives at these offshore reefs can include encounters with Silvertip, Whitetip and Grey Reef Sharks.
Prices include: Cabin accommodation on Oceania with up to 4 dives per day (inc night dive), tanks/weights/weight belts, all meals, snacks, airport transfers, and dinner at Walindi Resort on the final night.
Environmental & Safety Fee: 9 USD/night
Nitrox: Price on request