Halmahera, Togian & Gorontalo on Damai II, 12-23 November 2026
This 11 night adventure trip will be run on the luxurious Dive Damai II Liveaboard to dive Halmahera, Tifore Island, the Togian Islands and Gorontalo. At Halmahera the underwater diversity has been shown to be at least as good as Raja Ampat and many excellent dives sites have recently been discovered. Highlights include pristine reefs and rich marine life around the Goraici Islands, great pelagic action in the Patintie Strait that runs between Halmahera and Bacan Island, and at Tifore Island a resident school of Barracuda that is often 1,000 fish strong! The Togian Islands are blessed with spectacular beaches and dive highlights include a World War II B24 Bomber wreck and fish soup at Una Una Island. Gorontalo is an up and coming dive destination in Indonesia and it is here we hope to encounter Whale Sharks!
Halmahera, Togian & Gorontalo 11 night itinerary
The trip starts in Ternate on 12 November 2026 and will first dive areas around Halmahera including the Goraici Islands before crossing over to the small island of Tifore located mid-way between Halmahera and North Sulawesi. Following the dives at Tifore the trip will then continue to Sulawesi to dive around the Togian Islands and Gorontalo for more world-class diving. The trip will end in Gorontalo on 23 November 2026.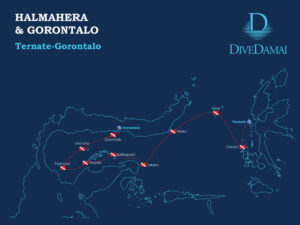 MSY Dive Damai II, like her sister ship, the Damai I, has a sense of adventure, plotting some of the most exciting routes in Indonesian waters. This adventurous spirit is elegantly combined with luxurious cabins, a large dive deck and relaxing dining and massage areas. Damai II has a deck length of 40 meters and a beam of 9 meters at its widest point. It is built to an uncompromising standard and fitted out with all the latest diving, navigation and safety equipment. Driven by two 320 horse power Mitsubishi engines the vessel can cruise at 10 knots.
MSY Dive Damai II features two stern Master cabins and four below deck cabins. The stern Master cabins boast their own private deck with loungers, a super-king size bed, day beds, two desks and private shower. The below deck cabins possess a level of luxury not seen on any other vessel in Indonesia. Each cabin has a private shower, a queen-size bed, an additional single bed or day bed and are finished with the highest quality furnishings. The dive systems have been made even more accommodating on the new vessel. The dive station is larger and is served by large rinse tanks. The camera room has been enlarged also. The max 4 diver to 1 guide ratio that customers enjoy so much on the Damai I has, of course, been maintained and there are three custom designed high speed tender boats. The Damai II is slightly larger than her sister ship, making ample space for three large outside deck areas with an outside dining facility, Damai's famous massage and spa treatment area and plenty of extra lounging and sunbathing space.
There are spaces available on this trip.
Halmahera, Togian & Gorontalo on Damai II, 12-23 November 2026
The cost of the trip is 7,645 USD in a Double/Twin cabin, 8,195 USD in Master cabin #5 or 8,965 USD in Master cabin #6.
These prices include 11 nights on Damai II, all diving, all meals, soft drinks, beer, tea/coffee, 1 glass of wine with dinner, and return transfers between local airport and the vessel on the day of embarkation and disembarkation.
All-Inclusive upgrade is FREE on this trip!
This upgrade gives you free Nitrox, equipment rental, massages and laundry.
Harbour fee: TBC
Marine Park fee: TBC
Trip prices in GBP and EURO are also available upon request.