The MV Galapagos Sky is a 110 ft. luxury liveaboard cruising and exploring the Galapagos Islands. The vessel was designed by a team of naval architects in close collusion with Peter Hughes and launched in 2001. The MV Galapagos Sky features an experienced crew, eight private luxury cabins with full ensuite services including shower, ample storage space, bathrobes, toiletries and hair dryers, and a spacious lounge and dining area.
Read More
Galapagos Sky's upper-deck Master cabins can be set up with twin-beds or one king size bed whilst the lower-deck Deluxe cabins have fixed twin-beds. Since all dives in the Galapagos Islands are current or drift dives, the vessel also features two 20 ft. inflatable tenders with experienced operators and divemasters. Nitrox is complimentary on Galapagos Sky.
Galapagos 7 night itinerary
Sunday – Boarding Galapagos Sky and check-dive at Isla Lobos (1 dive)
Monday – Diving at Cousins Rock (2 dives) plus Land Tour on Bartolome
Tuesday – Diving at Wolf (4 dives)
Wednesday – Diving at Darwin (4 dives)
Thursday – Diving at Darwin (2 dives) and Wolf (1 dive)
Friday – Diving at Cape Douglas (1 dive) and Punta Vicente Roca (up to 2 dives)
Saturday – Diving at Isla Pinzon (1 dive) and Land Tour on Santa Cruz Island
Sunday – Visit Interpretation Centre on San Cristobal Island and disembark Galapagos Sky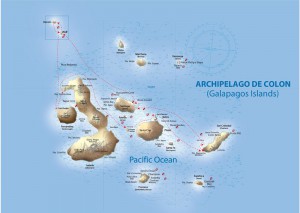 Galapagos 7 night itinerary
Price Jun 1 2016 – May 31 2017: Deluxe-cabin 5,695 USD (approx 4,316 GBP)
Price Jun 1 2017 – May 31 2018: Deluxe-cabin 5,895 USD (approx 4,467 GBP)
Price Jun 1 2018 – May 31 2019: Deluxe-cabin 6,195 USD (approx 4,695 GBP)
Upgrades available to Master-cabins.
Prices include: 7 night/8 day cruise on Galapagos Sky with up to 4 dives per day, tanks/weights/weight belts, free Nitrox, land-tours, all meals, snacks and beverages (including beer and wine with dinner), and return transfers between San Cristobal airport and the vessel on the day of embarkation and disembarkation.
National Park fee: 100 USD
Transit Card fee: 20 USD
Hyperbaric Chamber fee: 35 USD
Galapagos Video

Filmed by Jennie Brown on Equator Diving's 2013 Galapagos group trip.