Amun ini Resort is set on a 300m white-sand beach in Anda on the island of Bohol. Built to provide a fantastic view of the crystal clear blue sea that boasts a 15km long coral reef, Amun ini offers endless attractions for snorkelling and diving. Nestled above the white sand beach, overlooking the clear blue waters of Bohol Sea with Camiguin Island on the horizon, the resort's kidney-shaped infinity pool gives a relaxing view. Laze on one of the "sploungers" that are immersed into the ankle-deep waters of the pool's first step or relax on a lounging chair laid out on a small patch of green at the poolside.
Amun ini Resort offers a choice of Deluxe Twin rooms and Deluxe King rooms. These rooms have air-conditioning and are fitted with a seating area, a flat-screen TV with cable channels, a minibar, ample writing space and ensuite bathroom with shower. All the resort rooms have a wonderful outdoor terrace with sea view and a pebble floor that massages your feet as you walk over it. From this terrace, the view starts with the garden and its pervasive, all-around green. Then comes the beach below, and finally the sea beyond all the way to the horizon.
Amun ini Resort's spa is located on a rocky overhang overlooking the white sand beach. Designed with no walls, veiled with soft willowy curtains for some privacy, you can hear the rhythmic lapping of the waves on the beach. The gentle blow of the breeze from the sea, combined with the soothing hands of the therapist, will definitely lull almost anyone to a relaxing snooze. You can also choose to have a massage right on the beach.
Amun ini Resort's restaurant has a privileged location with a spectacular view of the infinity pool, the beach, the sea, and Camiguin Island in the distant horizon. You can enjoy this amazing view in the relaxed and familiar atmosphere of the restaurant while dining on professionally prepared food along with your choice of wine. A little lounge at the far side of the restaurant is a comfortable place to relax and have a drink in good company before or after dinner.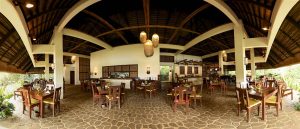 Amun ini Resort's dive centre boasts an oversized briefing and equipment facility and a camera room for photographers and videographers.
There are 2 guided dives in the morning and in the afternoon, a mandarin dive at 5pm and night dive at 6pm. Amun ini Resort has more than 33 dive sites which range from breathtaking wall diving with large schools of fish as well as a mind-blowing variety of critters such as pygmy seahorse, thorny seahorses, endless nudibranchs, shrimps, crabs, blue ring octopus, mimic octopus, wunderpus, mandarin fish and many more.